#MyTravelokaEscapade: To The Vibrant City - MELBOURNE! ✈
8:55 pm
Hey! What's good?

Good day, mate! It's one lovely day to turn our travel dreams into reality! Traveloka is having this amazing contest and I am super eager to participate! 😍 A wonderful chance like this; who would wanna let it go? Let's see what we gotta do!

Oh yes, I'm certainly ready! | source: Tumblr
It was an obvious choice for me...
the vibrant city of
Lots of love for this city 💗 | source: Tumblr
I hope all this will be WORTH IT (Fifth Harmony) as I am truly joining this contest with determination
;
I'm UP ALL NIGHT (One Direction) thinking of Melbourne and how happy I will be to go there for a vacation;
I am trying to make my WILDEST DREAM (Taylor Swift) come true with my effort and trying anything smart;
ALL I ASK (Adele) from Traveloka is to turn this boy's dream into reality and I hope this entry will win your heart!
🤞
(Okay, now let the story begins..)
Doubtlessly,
Melbourne has been on the top of my list literally since I was 10
. This big smoke awed me ever since I was just a reckless 10-year-old kid who's friend bought a key-chain for. True story. He bought me a key-chain from his family trip to Melbourne and from that day onward, I never stopped asking him questions about that city for months. I was just an excited kid who has never stepped foot onto that big city, who actually has never been to any other places other than our own hometown.. who has a best friend who was just as excited to tell me every single thing that he did in Melbourne. We even promised to go there together one day when we get older
(sad story: we don't keep contact with each other anymore, huhu
). But, ever since that unforgettable kind gesture, I never stopped thinking of Melbourne. Oh, that city; so dreamy!

Melbourne remains my number one choice of destination to date and I knew I just had to join this contest the moment I saw that Melbourne was in the list! Gotta do anything for your dreams, yknow. My mood went from Buuhuu 🙁 to Woohoo 😄 so quickly.. all thanks to Traveloka for this contest!


Can't contain my excitement any longer, sooooooo..
How would I spend my holiday in Melbourne, Australia?
🤔 Well, I'm glad that you asked, mate!
→ 1. A foodie gotta do what a foodie gotta do: FOOD HUNTING!
Did someone said food hunting? IM IN! Oh yes, my love for food and drinks is inevitable. Melbourne is very well-known with it's many cafes and restaurants that serve plenty of good choices. Well, I've not been
there but when you have been living for a decade wanting to go to Melbourne, you know for a fact that it's true. My #1 ultimate plan? Waking up in Melbourne feeling hungry and getting myself a hearty mouth-watering Aussie breakfast to devour!
The Hardware

Société

is a place I aimed to have my very f
irst Australian breakfast. I mean... just look at this....
I can already imagine the egg yolks oozing down the plate! | source: mademoiselle
There are so many places to choose from to enjoy amazing food and drinks in Melbourne. From sweet to savory, from breakfast to brunch or lunch to dinner and supper. This city is filled with food cultures taken from different parts of the world, twisted and modernized in it's own Aussie ways.. it's no doubt a paradise for a food lover like your's truly.
Romulus & Remus...
Sparrow's Philly Cheesesteaks
..
Meat Market..
Howler..
Queen Victoria Market...
(..Oh, don't mind me while I list down my must-go places)
Dead Man Espresso..Father's Office..
Grub Food Van....
(and many more..)
Honestly speaking, I am currently trying to finish a plate of Nasi Ayam but I kept imagining myself having a solo lunch in Melbourne. I'm not even joking, help me. I'm going nuts!
(Oh btw, I can take really good food pictures, so that would be perfect for the blog, hihi)
→ 2. Gotta love the animals too: MEET THE ANIMALS!
I've been wanting to do this for so long. So far I am only able to see them in videos and pictures, or get stuffed toys of them.. so I wouldn't want to miss a chance to meet some adorable Aussie animals! Where my bros Koala and Kangaroo hidin' at?! Well, they're not exactly hiding because they're just there in the Melbourne Zoo waiting for me to meet them! I'm surely not going to miss the chance to get myself as close as I can be with these incredibly cute animals.
I won't forget to meet the others too, such as the wombats, zebras, elephants, lemurs, seals, etc. Countless selfies with them will be taken to cherish the
wonderful moments. I've always loved animals and what better place rather than the Melbourne Zoo (awarded RACV Victorian Tourism Awards) to go to show my love for all these amazing animals. I'm super supportive of ani
mals conservation as I believe it's a significant effort to ensure environmental sustainability which is truly crucial for the future.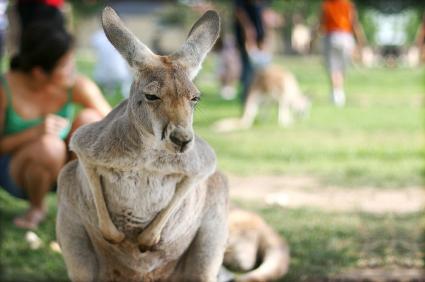 "Where are the leaves from Malaysia you promised me?! I'm watching you, Joel!" | source: Melbourne Zoo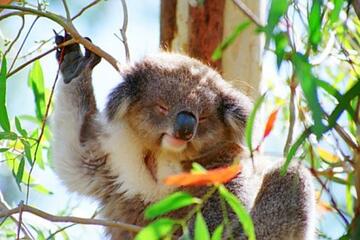 Eat, pose, sleep, repeat. | source: Viator
Thanks to everyone behind the development and progress of Melbourne Zoo and every other organisations/zoos in the world for their efforts in conserving these beautiful creatures. Much love for all of you and the floras and faunas in the zoo! #SpreadTheLove 💓
→ 3. Adventure for the adrenaline junkie: SKYDIVE & SWIM WITH SHARKS!
Bucketlist! Bucketlist!
Haters will say it's edited (too bad it is, buuhuu) | original photo/source: Skydive Melbourne
Hey, that's me swimming in the Melbourne Aquarium with sharks! (I wish) | original photo/source: giftsthatthrill
When I was in primary school, we would have English essay exercises and exams where we gotta choose which activities we want to do and explain why. I would always choose the more adventurous and adrenaline pumping ones, cos' that's just what I would love to go through. I was an adrenaline-junkie since childhood, no doubt. To go on a free-fall from 14,000FT in the sky and to swim with the "handsome" sharks.. just seem to be the perfect experience in Melbourne for me! Now,
traveloka.com.my
, you do know how to stop me from putting my face onto others' pictures, right?
Approve my leave, pretty please?
→ 4. The view would be spectacular: MELBOURNE STAR!
What better way to see the whole city of Melbourne than getting on this huge observation wheel.
Day or night, the view would definitely be breath-taking. | source: Melbourne Star
So picturesque, it hurts to only be able to see it in a photo. | source: Flickr.com
The Melbourne Star Experience usually comes in a package of day and night, which is doubtlessly perfect. The stunning views of the city in the day, and the mesmerizing Melbourne city lights at night... would totally be the cherry on top for my whole entire trip. Why wouldn't I want to feast my eyes on the city of my dreams from high above, knowing that I've been wanting to be there for so many years? From the top, I would be able to take the best panoramas that I shall print out and stare at for the many years to come. I would truly be overjoyed to get to "fly" on this wonderful observation wheel! 🎡
→ 5. Can't forget this important "duty": SOUVENIRS SHOPPING!
Typical holidays with few souvenirs shopping sessions in between. Other than making others happy cos' it shows that you still think of them while you're on a holiday, it would also be a fun experience discovering unique souvenirs to bring back
(alongside the mainstream key chains and fridge magnets)
. Melbourne has a lot of famous spots to get souvenirs for everybody back at home!
(psst, I usually get some for myself too)
Melbournalia sells locally made items of various kinds, made by the community in Melbourne. It can't be more authentic than that! Truly the best things to bring back especially because these group of people share their stories and backgrounds through their products. Gotta save up some baggage allowance for the items from Melbournalia!
Next up, Queen Victoria Market!
Other than a place in my list to indulge in good food, Queen Victoria Market also offers many items for me to get. I will get to explore the historic sheds to grab incredible bargains on original treasures from clothing, crafts, etc. Perfect location for me to soak in the vibes of a Melbourne local open air market, while I go on an adventure for delicious food and amazing souvenirs to bring back to Malaysia. I won't mind going here twice or more!
There are many more local shops selling souvenirs in Melbourne, thus I don't think it will be a problem to get everyone a piece of Melbourne.
Not to forget,
I will document my whole escapade in Melbourne by vlogging
! Every places I go, a camera will always be on to capture the beautiful moments. By that way, I will get to see back the wonderful things I see, smell, taste, hear and feel.. or in other word,
EXPERIENCE
. Hey, I can also share the videos with my family and friends
(I'll send a Facebook message to that primary school best friend too to brag about it, haha!)
Many other awesome experiences are not listed in this blog post, but I actually listed the five that I truly would want to do in Melbourne which I believe would make #MyTravelokaEscapade the best ever.
Explore museums and arts.. Visit parks.. Watch stand-up comedy and live gigs.. are few others that I would want to do if I have the time.
✌😍 So, that's #MyTravelokaEscapade 💌
No words can really describe how much I want to get to experience Melbourne. Believe me when I say that I want this a little bit too much. It surely will be one part of life that I will remember forever, especially because it was a dream since I was only 10. I would truly be #BLESSED with that opportunity.
Me if I get the chance to go to Melbourne 😆 | source: Popkey
😱
is the face I made as I go through the net to search for a holiday that would be perfection,
💔

resembles my heart when I compared the price with my budget and financial limitation,
😭

is all I wanted to do as a holiday seems impossible which is an unfortunate realization,
👮

are the people I hope my neighbors didn't called cos' I may had screamed due to frustration!!!
😊

is on my face when I discovered Traveloka
that made me jumped with high exhilaration,
🔥
filled up my spirit as with Traveloka, affordable vacays can not only be in my imagination,
😎
is like my face while go through the great selections which are the perfect holiday solution!!
💵
and
🕜
are saved with this effective website filled with many amazing deals and promotions,
💯

out of

💯

to Traveloka as they
provide assistance for holidays from hotels to transportation,
❤

is all I got to offer for Traveloka for their
outstanding efficiency and great deal selections,
😃

is constantly on my face now because great but affordable vacations are no longer just fiction!
Thank you for this amazing contest, Traveloka! I did my very best and all I can do now is hope that I'll be packing my bags soon! I'm hoping and praying one of my future blog post will be about my awesome trip in Melbourne, Victoria, Australia 💗
sidenote;
Do feel free to participate in the contest!
To learn more, click
HERE
. Good luck!

That's all for now. Thanks for reading! 😎